Wood Flooring Repair due to Water Damage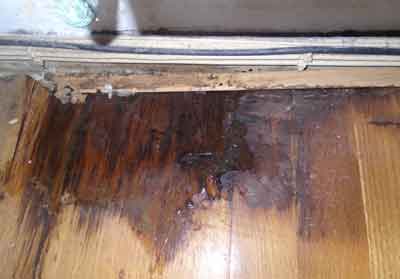 A wood floor can be damaged quickly if an issue has taken place where water is all over the place. Where water has been sitting on a wood floor for longer than a few hours then severe damage can take place. Wood is naturally absorbent and despite varnish and stains, there are lots of areas for water to be absorbed.
As wood takes in water it broadens and triggers fractures, crowning and buckling of panels. The impacts on laminate flooring are much more noticeable and the leading hardwood veneer can become separated from the wood below.
Enviral Restoration are experts at drying out wood floors and restoring the damage caused by flooding.
We have the water extraction equipment, blowers and hardwood floor drying mats to tackle just about any hardwood floor damage.
For immediate help with your wet wood floor call today
Wood Flooring Drying and Repair
As a structural damage drying and repair work business we act quick to dry and fix wood floor covering. We set up drying devices, dry it out totally, remove the product that is not salvageable and repair the wood floors. We will inspect the damage, come up with a suggested strategy and appear ready to obtain it done immediately. Much of the time water damage to floors is covered by homeowners insurance coverage, and we can help with that as well.
When standing water is gotten rid of, water harmed wood floor drying mats are utilized to dry wood floorings, having a gasket edge to make a great seal to be able to get rid of trapped water. A variety of these large mats are connected to a blower or extractor.
After drying, a lot of wood floors need areas of panel refinishing, repair and replacement.
Subfloor Repair
As soon as water has permeated a restroom, cooking area, living space or dining room flooring, then it can soak into the supporting subfloor beneath. In a lot of cases the subfloor is plywood sheeting, which is likewise easily harmed by water. Plywood sheeting is made up of really this sheets of wood glued together and water easily broadens and distorts the layers. Water harmed plywood sheeting is finest eliminated and replaced. Sometimes subfloors have supporting beams, which are frequently structural, and more serious damage can strike beams, as well as surprise mold growth which is not right away visible.
It is essential to dry out the concrete or water will permeate any new sheeting that is put down if there is concrete beneath the plywood subfloor.
Questions about Flooring Repair:
What does it cost? Will it cost to do the flooring repair work? When wood floorings or hardwood laminate floors have been harmed by water, it Is tough to provide an exact quote without seeing the level of the damage, however we will more than happy to offer a complimentary quote after checking the damage.
How can I decide if there is water damage on wood floors? As water permeates wood it expands, and the very first sign is that specific planks get cupped or buckled. Over a larger area a variety of wooden planks can make a crown or lump in the flooring. Frequently wood will turn a dark color, which might be caused by mold growing in the wood or by tannins in the wood responding to the water.
Any other questions about water damage restoration, contact us.