Water Damage Restoration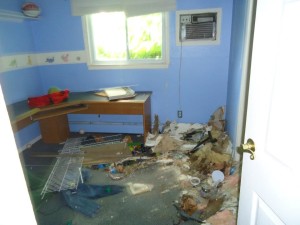 When water damage occurs, responding to the situation in a fast and appropriate manner can prevent further damage, and keep insurance restoration costs down. The number one priority when responding to flood damage is to locate the water intrusion and to correct the water source in order to prevent any further damage. If you cannot stop the leak it is imperative to get help immediately. The ultimate goal is to prevent any further structural damage.
At this point you might be able to cut some of your losses by moving your belongings to an area that is not affected by the flood so they can begin to dry. Contact your insurance company to report the incident as soon as possible; several insurance companies have a 24 hour claims department.
Now it is time for the experts to come in mitigate the loss and to produce a scope for repairs of the damaged area. Enviral Restoration is an insurance restoration company that will restore your damaged structure and to bring your property to a pre-loss condition.
Upon arrival, the technicians will assess the problem. With the help of moisture reading equipment and moisture mapping the mitigation technician can properly put in place a drying protocol. They need to know exactly how much damage the flood water has caused to the structure. Generally the restoration process will begin with locating the source, removing damaged materials, and applying an anti-microbial treatment for mold prevention. Mold can cause serious breathing / respiratory problems. This is the purpose of applying the anti-microbial treatment solution. The structural drying process will include industrial fans designed to force air behind tight spaces to aid in ventilation and a quick drying time; other drying methods may include dehumidifiers and air movers. These two tools are used to keep down high moisture levels that can otherwise damage a building structure. The goal is to remove the water damage, and restore it to pre loss condition.
When dealing with the insurance company it is beneficial to take advantage of direct billing. By using direct billing you can simplify the claims process by allowing the insurance restoration company to negotiate a reasonable settlement all while taking care of much needed repairs. Direct billing will also allow you to focus your full attention on repairing the damages to your homes and get back to living your life.
No one wants to deal with flood damage and the aftermaths. Being prepared when it happens and knowing what to do after it happens will help to eliminate stress and uncertainties. Having an experienced insurance company and working with an expert restoration company makes a huge difference in restoring your home.restoration company