Water Damage Cleanup in Brookhaven NY – Flood Damage Repairs
Water Damage Cleanup in Brookhaven NY – Flood Damage Repairs
When you have water damage from a flood, burst pipe, damaged roof or broken appliance, then you need help fast. But if you are thinking about choosing a damage restoration company, you probably have a lot of questions:
Can they show up quickly?
Are they experienced?
Will the damage be covered by insurance, or will we be out of pocket?
Are they licensed and insured?
As experienced restoration contractors on Long Island, Enviral Restoration have helped hundreds of families around the Brookhaven NY area cleanup, recover and restore Brookhaven properties to pre-loss conditions for many years.
We're confident we can help you. Even if you think water damage contractors are all the same, give us a call, you may just be surprised. Call (631) 240-4450
Enviral Restoration is always on standby, ready to help homeowners and business owners in your hour of need. That means being available 24 hours a day and 7 days a week as well as on holidays to service any kind of type of emergency damage situation. You can be sure that whatever damage has occurred, we are experienced and well equipped to deal with it as a top priority.
Our Cleanup Services include:
• Water Damage Restoration
• Water Extraction
• Flooded Basement Cleanup
• Mold Removal
• Structural Drying
• Structural Restoration
• Sewage Cleanup & Remediation
Brookhaven Flood Damage Clean Up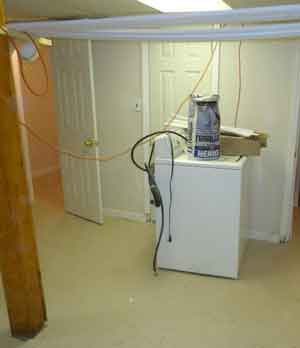 No matter how the flood damage has occurred, whether from nature, or internal to the property, we have experience with it and we can provide a solution.
The first priority is to come into your home or office, and make the area safe. First we will immediately shut off your main circuit breaker to prevent the risk of electrocution, which will disconnect any electrical supply to prevent a shock hazard. Secondly we will shut off your main water valve to prevent any additional water from entering, so the source of the water is stopped to prevent further damage.
Only then can we start the water extraction and removal. Using truck mounted equipment, we will pump out the excess water as soon as possible. With the use of truck mounted suction, submersible pumps and wet vacuums we can remove anything from half an inch to three feet of standing water inside a property.
Once the initial water clean up has been completed, we will follow up by bringing in external air movers, professional dehumidifiers, wall cavity dryers, and even specialized wood floor drying equipment. During the drying process, often an area is sealed with plastic sheets so that it can be dried, and to prevent the spread of mold spores.
Sewage Damage Cleanup and Removal
We also take care of sewage damage cleanup and offer a sewage removal service in Brookhaven. Raw sewage is hard to remove and contains toxins. Even sewage odor can be dangerous, and an infected area needs to be sealed off before clean up work begins.
Whatever your damage situation, Enviral Restoration is ready and waiting to help you restore and rebuild. We will take care of it so you can relax. Call now (631) 240-4450
Brookhaven is the only town in Suffolk County New York that stretches from the north to the south shore, with access points to both the Long Island Sound and the Great South Bay.
The town of Brookhaven NY contains a large number of smaller villages and hamlets that we service, including but not limited to: Bellport, Blue Point, Calverton, Centereach, Farmingville, Holbrook, Holtsville, Medford, North Patchogue, Shirley and Upton.
We also provide water damage services to Long Island NY