Mold Remediation
When a home or business is exposed to water damage, many problems can linger on, even after things are cleaned up. Mold can develop without the property owner being aware of the hidden mold growth. While it may not be visually evident, mold can impact occupants of a home or office in a variety of negative ways. It is important to have trained professionals help identify and then take care of mold damage restoration.
Health Concerns
The presence of mold in the home can have a significant effect on the health of you and your family members. Sometimes the symptoms are not obvious or attributed to another source (such as a pet allergy). Just a few of the symptoms that can commonly occur include:
Runny nose
Itchy eyes
Allergy-like symptoms
Increase in irritability in those suffering with asthma
Allergic bronchopulmonary aspergillosis
Athlete's foot
Thrush
Stopping Mold
In order to stop the mold from progressing, any standing water must first be removed. In order to ensure it does not continue to be a problem, it is also necessary to find the source of the water egress. Common causes include leaky pipes and malfunctioning appliances such as water heaters, burst washing machine hoses, and split pipes.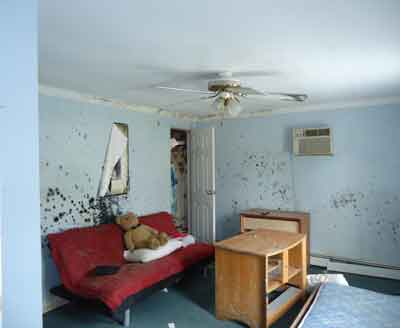 Removing mold
When it is time to start remediation, the professionals will first isolate the area and protect belongings in plastic sheeting. The impacted area is then thoroughly cleaned, and it is then completely dried to ensure future mold does not infiltrate the area.
Mold removal and cleanup restoration services you can rely on.
When it comes to mold removal and cleanup, it takes professional help and the latest tools in the industry to ensure the job gets done right the first time. Our staff understands the nature of the problem, and has the equipment and expertise to test even the deepest crevices of the home to make sure the problem is completely eradicated.